DVIDS – News – Military Working Dogs Play Vital Role in Camp Bondsteel Security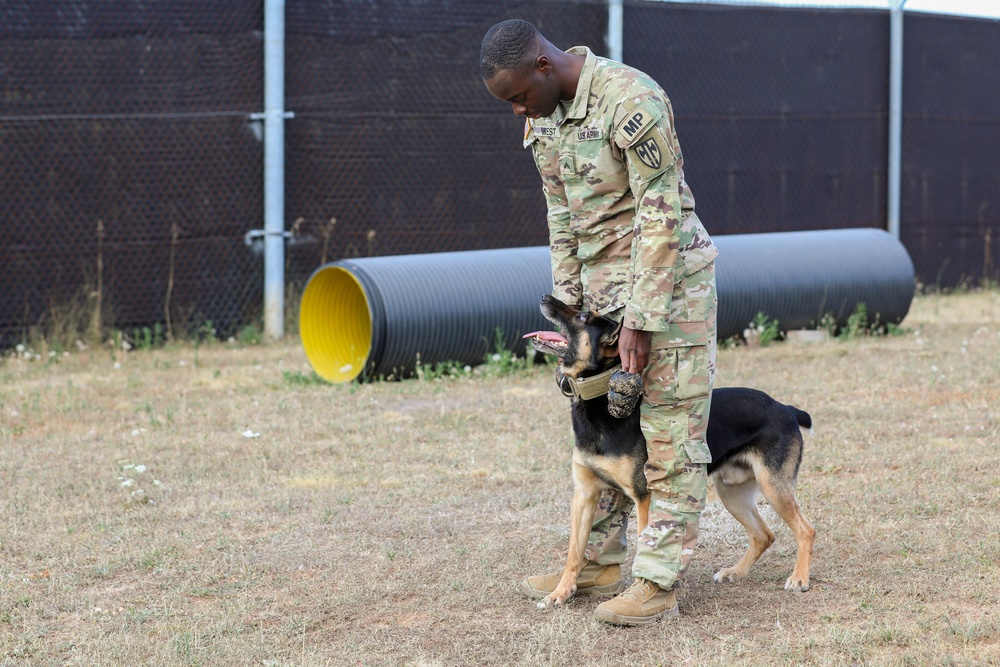 Every branch of the armed forces has military working dogs (MWD) within their ranks to perform a variety of missions, from explosive and drug detection, to scouting and patrolling. Their sense of smell is about 10,000 to 100,000 times more sensitive than a human's, depending on the breed.
If you visit Camp Bondsteel in Kosovo, you may be greeted at the front door by Figo and his handler Cpl. Charles West, with the 131st Military Police Detachment. Figo is a Malinois X, a mix of Belgian Malinois and German Shepherd. The combination results in a smart, good-natured, level-headed energetic protector of their beloved human being.
"I love their energy and personality, all dogs have different personalities. My last dog was a little more angry at work, while Figo is more affectionate towards work and enjoys being around me," West said. "I like the different personalities of the dogs and the way they work. During this rotation, our bond has become much closer than at our duty station in Germany.
The main mission of the MWD teams in Kosovo is the detection of explosives, and not only at Camp Bondsteel. "We recently went to Film City in Pristina to do a sweep for a VIP tour. We also perform helicopter landing zone clearances with EOD and aviation. So far we haven't found anything, thank goodness!
Figo is 6 years old and was trained at Lackland Air Force Base in Texas, by the 341st Training Squadron. The 341st is a world leader in providing MWD and trained handlers for the Department of Defense and other government and allied agencies. The 341st provides training for MWD's used in patrol, drug and explosives detection, and specialized mission duties.
Military Working Dog Handlers are Military Police in their Military Occupational Competency, MOS, as 31 Kilo. MWD handlers train their dogs for overseas combat operations and home installation security. MWDs also train to be a non-lethal option to neutralize a threat.
MWD handlers receive regular military training before being schooled as 31Ks.
"Previously, to become an MWD manager, a soldier had to be a 31 Bravo, military police, in order to become a manager. Now an initial entry soldier can become a manager. Previously I was a 31 Echo, Correctional Officer, then I was upgraded to 31 Kilo, MWD Handler. West explained.
As 31K they must be able to lift their dogs and gear in addition to their own gear.
"There is a requirement during the first half of the handlers course where the handler must carry an 88lb. sandbag some distance away, put it down safely, pick it up and return to the starting point," West said. On a mission, Figo only wears his waistcoat. "I carry everything else, from his medical kit to his toys, water for him and me, dog booties, goggles and muzzles. Slippers are for rough terrain »
Dog handlers are responsible for the physical needs of the dog, but also for its mental needs, especially stress during patrols.
"We are subject matter experts when it comes to our dog. If the dog is stressed, not feeling well, his body language doesn't seem right…he can't speak, so we have to be his voice," West said.
Most importantly, an MWD manager must establish a strong bond with their partner in order to be a successful team. "The initial bonding process begins with walking the dog, playing with the dog, and learning the dog's behaviors, mannerisms, and personality. The dog may have a personality when you meet him, and that may change as you spend more time with him. West says.
"We hope to work soon with the Kosovo Security Forces and their MWDs so that we can establish another link between Kosovo and the US military," West said.
| | |
| --- | --- |
| Date taken: | 08.12.2021 |
| Date posted: | 15.08.2021 05:09 |
| Story ID: | 403006 |
| Site: | CAMP BONDSTEEL, ZZ |
---
| | |
| --- | --- |
| Web views: | 230 |
| Downloads: | 1 |
---
PUBLIC DOMAIN


This work, Military working dogs play a vital role in the security of Camp Bondsteelthrough CFS Jason Alvarezidentified by DVDmust follow the restrictions listed at https://www.dvidshub.net/about/copyright.