Long Island Working Dogs
Dewey
1 year
Greeter and Taster
pawcasso
The children laughed and shouted "Dewey!" as an energetic Jack Russell Terrier jumped up and down at the entrance to Pawcasso. One summer day, they fed him peppers and hugged him on the grass.
This art studio and pet shop in Westhampton Beach is home to one of the happiest employees you'll ever meet. Dewey's job is to schmooze visitors all day.
Pawcasso is more than dog friendly – it's dog friendly. East Moriches co-owners Barbara Martorelli-Shapland and Ron Shapland opened a pet store in 2015. But Shapland is a graphic designer and some customers have inquired about his work. Shapland began creating art inspired by pets.
"So one of our first thoughts was to sell some of her unique pet ideas in our store," says Martorelli-Shapland. "But more people started to find out he was an artist."
This was also around the time that paint-and-sip nights were starting to trend—nights of painting lessons paired with refreshments started popping up on Long Island and beyond.
It was then that the couple decided to move into their current space and expand. The first floor is their studio, where art classes for kids and adults are held, and the pet shop is upstairs. They sell treats (which Martorelli-Shapland makes itself by dehydrating all-natural meat and vegetables), collars, leashes, and specialty items for dogs and humans.
"Animals and art," says Martorelli-Shapland. "How could you be wrong? »
Pet owners can bring their dogs along while they paint, and the pup can even be part of the experience, Martorelli-Shapland says.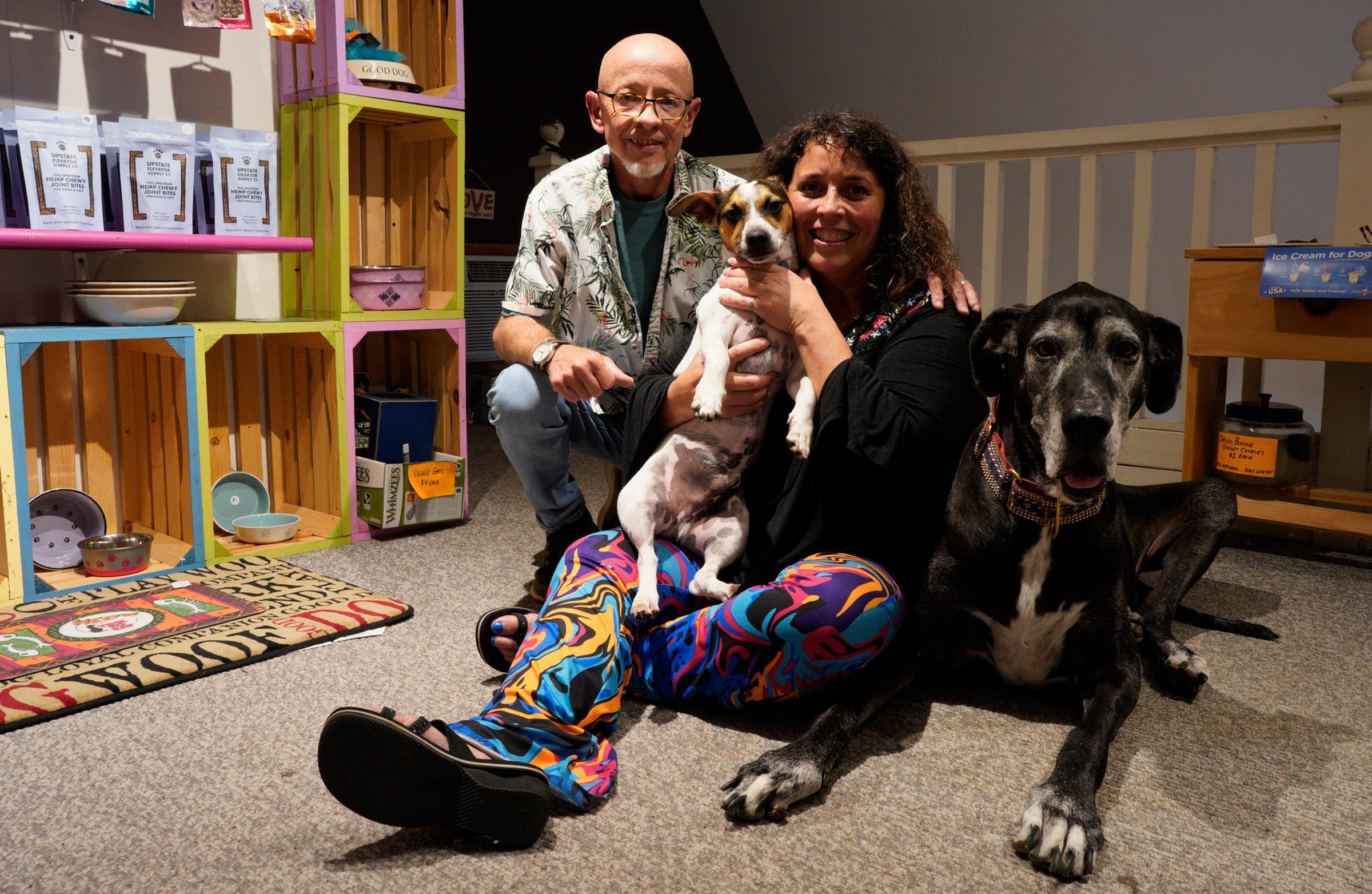 "Their dogs lie down, sometimes they sit in a chair," she says. "And they can paint them themselves or whatever. And we have animals incorporated into almost all of our paintings.
The "big draw" for customers, owners agree, is Dewey. The one-year-old Jack Russell Terrier mix greets people as they arrive at Pawcasso. The main entrance is a Dutch door, split horizontally and open at the top. Guests have a great view of Dewey as they enter – he jumps excitedly to be seen through the door.
When the kids come to the studio for art lessons, that's when Dewey really gets down to business.
"The first thing he does is he greets the kids coming in," says Martorelli-Shapland. "Kids who like dogs tend to fall on the floor and let it go crazy and lick them."
"All you hear is 'Dewey, Dewey, Dewey'," adds Shapland.
"When we first got him as a puppy, we would come home and say, 'If I hear the name Dewey one more time, I'm going to scream,'" Martorelli-Shapland says in laughing.
"He plays with them, and then as customers come in, he greets each customer," says Martorelli-Shapland. "He can also play with all the dogs, so he loves that."
Luckily for Dewey, he's also a "taste tester" for all the treats sold at Pawcasso. But he doesn't do this job alone – the owners have another dog that roams the store shop. Kava is a nine-year-old Great Dane. When she was a puppy, she greeted customers like Dewey does now, Martorelli-Shapland says. Since she got older, she mostly hangs out upstairs in the shop while Dewey entertains herself in the studio below.
"They still love him; they go up and see her," Martorelli-Shapland says.
Meanwhile, Dewey also walks around with some kids taking lessons there, and they even taught him a few tricks. As he jumps for joy at the entrance for all who enter or pass, the children laugh and point while painting their masterpieces.
"It's his job," Shapland said. "Make the kids laugh."